 Back to Shop
I AM THIS STATE OF EMERGENCY by Robin Myrick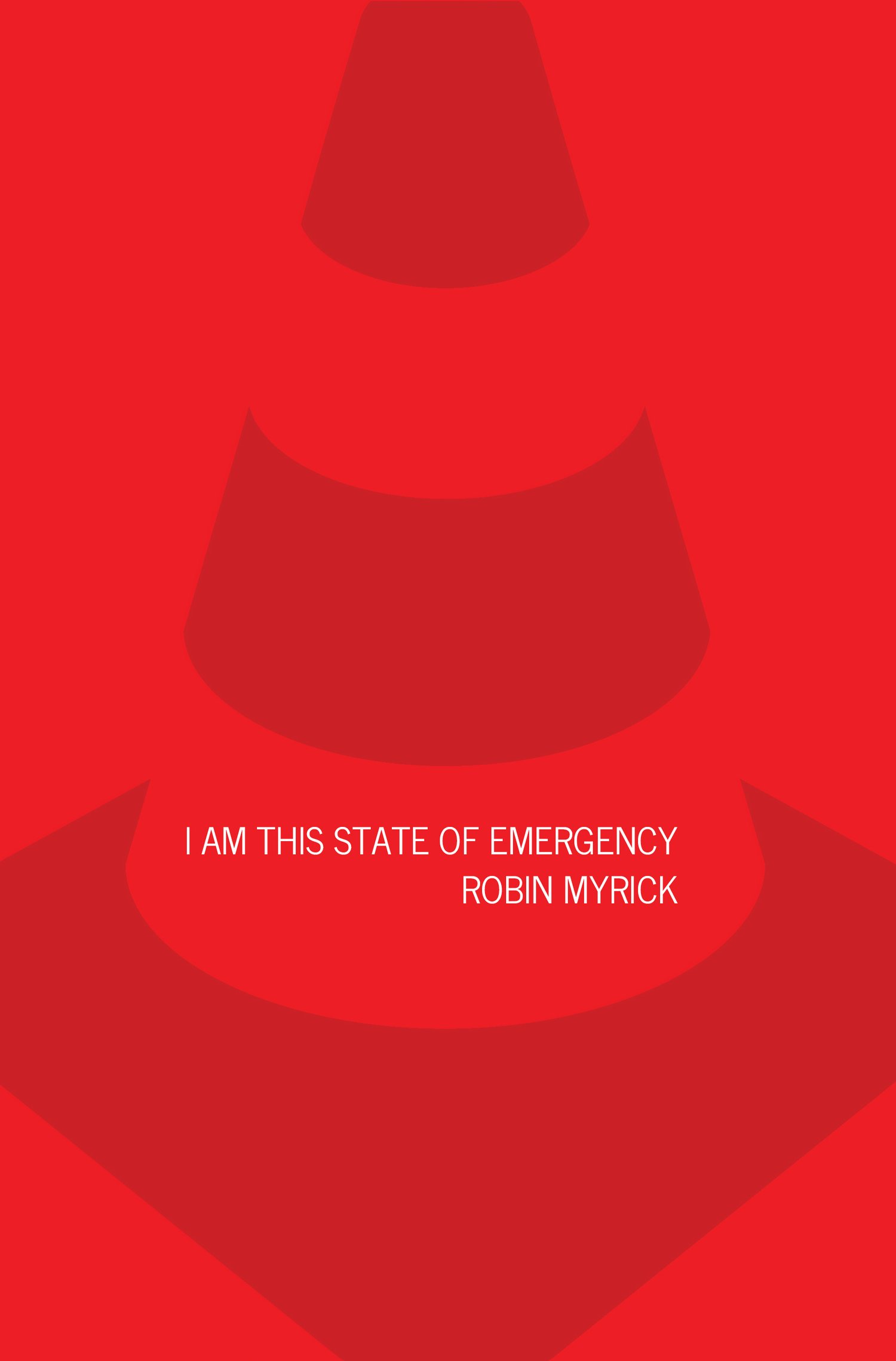 $

17.00
What does the campaign-speak that filters into our everyday speech actually mean when we use it to define ourselves, or others? What are we willing to say to our friends and acquaintances in the name of debate? How deeply is American partisanship rooted in real belief versus a taste for rhetorical bloodsport? Under what circumstances is democracy more noise than signal?
I AM THIS STATE OF EMERGENCY confronts but does not necessarily answer these questions. Composed over the better part of a decade, these poems feature many different speakers. Sometimes those speakers broadcast, sometimes they receive, and sometimes they trigger their sirens simultaneously. But, no matter how cacophonous the results, author Robin Myrick listens with uncompromising care. In the process, she reveals the raw human emotions throbbing beneath our politics' ostensibly authorless talking points.
ADVANCE PRAISE
"Robin Myrick reckons with the ruin/s of nation, of critical thinking, of radical empathy, of necessary discomfort and discord. And yet, this book is nothing if not loud, marked by polyvocal prose, contrapuntal verse: omnipresence and hyper-mediation as our lingua franca in Post Internet culture. Harnessing a docupoetics that returns poetry to the street, to the town hall meeting, to language as a state of emergence and exigency, I AM THIS STATE OF EMERGENCY asks us to consider listening as a poetics and a political praxis. Informed by information theory's foundational tenet, this is a book that takes noise as more than necessary; as narrative itself."
— Chris Campanioni, author of THE INTERNET IS FOR REAL & A AND B AND ALSO NOTHING
"Robin Myrick has collected a cornucopia of conversations about American values and distilled them into tragicomedy for our times. That cornucopia is a hearing trumpet, a megaphone, a dunce cap, and a traffic cone — the magic of these poems is in how they shift depending on what the viewer brings to them. The personas we meet are reminiscent of David Byrne's TRUE STORIES, but the stories really are true. Through a good long rubberneck at the morbid curiosities we've become to each other, what her poems reveal about American nature is terrifying, hilarious, and always full of heart. It's impossible to look away."
— Cole Cohen, author of HEAD CASE
"With nods to O'Hara, Coolidge and Armantrout, Myrick chases the liminal moment."
— William Lessard, Poetry & Hybrid Editor, HEAVY FEATHER REVIEW
"There is no easy way to explain what Myrick has captured by listening to the great unwashed body politic of America. Chaos and complications of common political opinion as raw poetic sewage. Or vomit on the family carpet. The kind of vile, twisted crazy talk one might hear in a mall, a town-hall, or a line at the pharmacy. Yogi Berra as Mussolini, Ann Coulter meets GLEE's Brittany. Studs Terkel meets MAD LIBS. Safe to say it is a fascinating glimpse into our collective disturbed mind. But not necessarily safe to read. The People, No!"
— Kevin Russell, Shinyribs and The Gourds
"I AM THIS STATE OF EMERGENCY turns up the volume on the nightmarish soundscape of contemporary American politics, spurring us to listen and listen hard to where we are and what we have become. Myrick's endlessly innovative poems transfigure the collective transcript of our last decade, showing us what better things we can do with words. 'The only way out is out,' she insists, and with this collection, points us towards the exits. A labor of love for the body politic, and a powerful, arresting debut."
— Janet Sarbanes, author of THE PROTESTER HAS BEEN RELEASED and ARMY OF ONE
"In the making of her debut collection of poems, I AM THIS STATE OF EMERGENCY, Robin Myrick set out to listen closely to the kind of person most unwilling to do the same, the politically divided argumentative American. The resulting document of this deep listening experiment is in poem form, organized by playlist. Bouncing from 'I' to 'I' across the political spectrum, an opposing, despicable 'you' is always in view. Myrick has brilliantly imploded the bumper sticker stick-it-to-em, unearthing the true slogans of our time: a puzzle of contradictions, double standards, ironies — even thinly concealed hurt — and a devotion to the divide itself. Angry voter tirades are blasted open, pulled apart, taken to their logical conclusion, and smartly juxtaposed, each poetic turn an uncomfortable revelation inciting laughter, horror, and contemplation. It's precisely in Myrick's unwavering attentiveness to the us vs. them rhetoric that these poems point us elsewhere, lead us to unexpected places — if only America could quiet down and pay attention and listen like Myrick does. Ultimately, these poems prove that it's in the act of listening and in the necessity for poetry that we can get ourselves out of this predicament. These poems are their own kind of protest, and I'd love to have any part of them on the bumper of my car."
— Stephen Van Dyck, author of PEOPLE I'VE MET FROM THE INTERNET
Publication Date: October 13, 2020